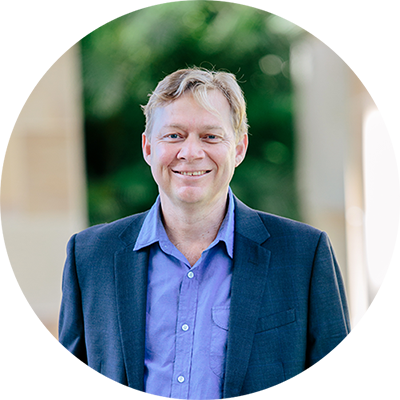 Inspired by your vision for a better world and made possible by your generosity, our exceptional people, innovative projects and relevant programs are creating positive change, locally and globally.
Here you will find recent stories of our shared progress – as a community of knowledge seekers and game changers – towards improving the way the world does business and solving complex societal challenges.
These stories explore how together, with your support, we are proudly transforming teaching and learning, empowering student success, and driving discovery and impact in business, economics and law.
While these stories are just a small showcase of our extraordinary collective impact, I hope they are a timely reminder that by proactively taking action, together, our greatest days lie ahead.
Thank you for choosing to partner with UQ.
Professor Andrew Griffiths
Executive Dean
UQ's Faculty of Business, Economics and Law
The motto "every day is a learning day" is the inspiration behind two new scholarships on offer for UQ Faculty of Business, Economics and Law students.
Inspired by his own university experience, leading funds manager Matt McLennan has donated $1 million to The University of Queensland Law School to provide students with collaborative learning spaces.

Eminent University of Queensland alumnus Dr Vince FitzGerald AO credits the School of Economics' Honours program for kickstarting his public policy career – and he has pledged $220,000 to establish a scholarship to give other students the same opportunities.

Young people with a disability and a passion for rugby will soon have the chance to play for the UQ Rugby Football Club, thanks to The University of Queensland's annual Rugby Benefit Dinner.

Four alumni from The University of Queensland's Faculty of Business, Economics and Law have been recognised with 2018 UQ Alumni Awards for their exemplary contributions in fields ranging from social enterprise to agricultural innovation.

University of Queensland law students have been recognised for their academic excellence and community outreach with more than 30 awards presented at a ceremony last night.

The Forgan Smith building is the visual centrepiece of UQ's St Lucia campus and home to the School that has nurtured some of Australia's most influential legal professionals, politicians and business leaders.

Although prominent fund manager Paul Taylor graduated from The University of Queensland over 25 years ago, his connection to UQ is as strong as ever.

Providing free legal services to vulnerable members of the community does not sound like core business for lawyers, but that's how UQ Law students are championing the public good.

Generous UQ students, alumni, and community members are using their loose change to contribute to the greater good, by raising funds for causes they are passionate about such as dementia research and providing legal help to those in need.

Learning about the statistics of Aboriginal imprisonment in Western Australia led University of Queensland law student Nicholas Frazer to put his legal skills into practice and investigate.

University of Queensland alumnus Dr Vince FitzGerald AO last week completed donations totalling over $80,000 to the Archibald Scholarship at UQ's School of Economics.

A possible cure for dementia and saving the Great Barrier Reef from invasive crown-of-thorns starfish are now within reach as UQ launches an historic $500 million philanthropic campaign.
Pages


$4m
given to BEL scholarships over 10 years


120
BEL Faculty Alumni Mentors


70
global BEL Alumni Ambassadors
Thank you to our generous supporters
The Dean's Society recognises our annual and lifetime donors who provide philanthropic leadership and vision, which contributes to the academic excellence of UQ BEL students, academics and programs. celebrates the bond shared by our alumni and friends.
Hear from Dean's Society Chair Paul Taylor and fellow donors about how giving to the BEL Faculty has created change for them and the students they support.
View our latest Dean's Society Honour Roll of Donors.
Create change today
We invite you to find out more about how partnering with BEL can align with your interests and help meet your priorities. Your support will strengthen the Faculty's agility, impact and capacity to discover pragmatic solutions for the complex challenges facing industry and government in the 21st century.