Get connected with other UQ Business, Economics and Law Alumni living in London.
There is a vibrant community of UQ alumni living in London, including a team of dedicated volunteer ambassadors who are eager to build the community and remain connected to UQ.  There are opportunities to connect with fellow alumni at events and through social media platforms, providing key industry contacts, mentors and employment opportunities from the wider business community.
London Alumni Ambassadors
---
James Crombie
Portfolio Manager, Crombie Global Investments
UQ qualifications: Bachelor of Science, Bachelor of Commerce 2013
James Crombie is a fundamental equity research analyst. He currently runs a global long short portfolio with a focus on developed markets. He has delivered 61% returns (47% alpha) since its inception in 2020.
Earlier, he was Head of Research at Petrus Advisers, a London-based hedge fund. In 2019, the year James was appointed Head of Research, and after making extensive changes to the investment process, the fund was awarded Eurohedge's Highest Performing European Hedge Fund (<500m AUM) with a net return of 43%.
He was first exposed to investing at the age of 6, when his grandfather bought him some Telstra (TLS AU) shares. It sparked a lifetime fascination with investing. James completed his first merger arbitrage trade at the age of 16 while interning at a stockbroking firm. He joined the investment management industry in 2013.
In addition to his education at the University of Queensland, James is a CFA charter holder and holds a Masters in Finance from London Business School.
---
David Young
Chair, London Alumni Ambassador Council
Associate Partner, EY
UQ qualifications: MBA 2017
David is an Associate Partner at EY. He holds an MBA from the UQ Business School and has 16 years of experience in search and leadership consulting in Australia and the UK.
 
David was previously a company Director at The River Partnership, working within the Professional Services, Financial Services and Energy Markets globally from a head office in London. David's teams partnered with leading brands such as McKinsey, Blackrock and Rio Tinto primarily within the Risk, Strategy and Digital functions.
Being part of the UQ MBA Industry Consulting project for EY is one of David's favourite memories from his time at UQ. He worked with John Steen, Tim Kastelle and Partners at EY in a Management Consulting collaboration which involved a Customer Experience Strategy Transformation for their $58+ billion client.
David encourages new graduates to always seek out new opportunities for learning and networking.
In his leisure time, he enjoys running, reading, soccer and swimming.
---
Paul Kelly
Global Next Generation Proposition Manager, HSBC Private Bank
UQ qualifications: Bachelor of Commerce (Hons)/ Bachelor of Business Management 2008
Professional memberships
Chartered Accountant (CA), Chartered Accountants Australia and New Zealand
Freeman, The Worshipful Company of International Bankers, London
Paul is a senior financial services professional, currently at HSBC Private Bank leading the design and implementation of the Global Next Generation Client Proposition for their millennial clients.
Paul has a background in management consulting with PricewaterhouseCoopers (PwC) having worked with senior management and finance teams to deliver multi-million dollar strategic productivity and financial initiatives across a diverse range of sectors including banking, investment management, healthcare, government and utilities.
He arrived in the UK in 2014 to undertake the Master of Finance at the University of Cambridge. During this time, he delivered investment management strategy projects for the UK Government Cabinet Office and BNY Mellon, including a globally published report on the millennial generation's investment, financial education and social finance preferences.
Paul advises new graduates to choose a career path that they will find fulfilling and to network widely.
His fondest UQ memories include walks by the UQ Lakes and in the Great Court, his macroeconomics lectures and hot chocolates at the BEL Faculty Rooftop Café.
He enjoys reading, investing and travelling in his leisure time.
---
Sophie Morgan-Short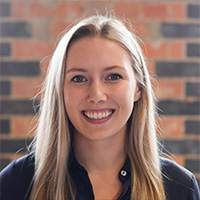 Senior Paid Social Manager, Jellyfish
UQ qualifications: Bachelor of Arts/Bachelor of Communication, Diploma in Languages 2015
After graduating with a dual degree in Communications and Arts from UQ, Sophie started working in marketing and communications at a charity in Brisbane. She then moved to London where she managed member acquisition/growth for a tech start-up. After two challenging and interesting years, Sophie moved on to KAU Media Group, one of the fastest-growing digital agencies in the UK, where she is now Head of Paid Social.
Sophie's areas of speciality include digital marketing, social media and business growth. Her career highlight to date was substantially growing the member base of an App from 10k at the time Sophie joined the company to over 500k by the time she left – a feat Sophie described as "a steep learning curve, but a huge achievement".
Her advice to new graduates is, "Focus on your short-term goals and work really hard at whatever's in front of you. Don't stress too much about achieving your dreams or following a career path. Life changes quickly—and your dreams do too. Be open to new opportunities, and follow your gut instinct!"
Some of Sophie's favourite memories of her time at UQ include interesting, thoughtful professors such as Professor Eric Louw, who she says impressed students by delivering entire lectures from memory. She also fondly remembers lunch at Wordies – "best place on campus!" – and evening walks along the river with her friends.
In her free time, Sophie enjoys reading, travelling and snowboarding.
---
Michelle Morton
Vice President, Product Strategy, Real Assets, BlackRock
UQ qualifications: Bachelor of Commerce 2009
---
David Sheldon
General Counsel EMEA, Crédit Agricole CIB
UQ Qualifications: Bachelor of Arts (Honours) 1988 / Bachelor of Laws 1993
Additional roles
Advisory Board Member, Practical Law Company
Council Member, Justice Legal Charity
Associate, Moller Institute, Cambridge
David Sheldon joined Crédit Agricole Corporate and Investment Bank as General Counsel EMEA in 2009 and is based in London. Mr Sheldon is a member of the Bank's Global Management Committee and London Management Committee as well as being a member of a number of risk, compliance and business oversight committees. He has spent more than 25 years as an international lawyer in which time he has lived and worked in New York, Hong Kong, London and Australia.
David specialises in investment banking and executive coaching.
His advice for new graduates is, "There are no shortcuts. Listen, learn, work hard."
In his free time, David enjoys one of his favourite places - Italy.
---
Contact
Contact a member of the BEL Faculty Advancement team to discuss your relationship with the Faculty, options for giving back to current and future students, partnership opportunities, upcoming events and more.